Tile & Grout Cleaning Livermore
Residential & Commercial
What kind of tiles can we clean?
The answer to this question is easy! We clean every and all types of tiles including:
Ceramic tiles
Porcelain tiles
Travertine tiles
Limestone tiles
Slate tiles
Natural stone tiles
Whether these tiles are on your countertops and backsplashes or are in your kitchen, bathroom, foyers, entranceways, hallways or wet rooms, our eco-friendly cleaning products will clean all these types of tiles and more and give you the results you've been dreaming of!

Before & After: See the difference!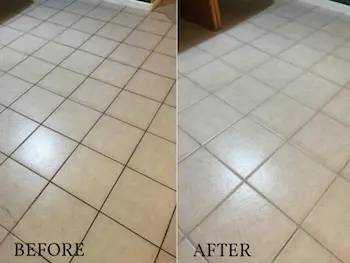 What are the benefits of having your tiles and grout professionally cleaned?
In addition to improving the look of your flooring/tiled area, hiring a professional has many other benefits –
Extends the life of floors, countertops and backsplashes by removing the dirt and debris that can weaken the integrity of the tiles themselves.
Our tried and tested techniques are safe to use on all types of tiles and grout.
With the regular professional cleaning of your tiles, you can significantly extend the lifespan of your tiles meaning that you won't have to completely replace them.
In addition to improving the appearance of your tiles and grout, our cleaning methods give results which are long-lasting, giving you more bang for your buck!