Tile & Grout Cleaning Livermore Services
Domestic & Commercial Services
Tile & Grout Cleaning Services in Livermore
With everyday use and with the passing of time, the tiles in your home can lose their original gleam and shine.
This is because tiles are, by their very nature, porous as well as is the grout used to keep them in place.
Eventually, your tiles and grout will absorb the dirt that isn't removed through surface cleaning making them dull and dirty looking regardless of how much you clean and scrub them.

What can you do?
Endless scrubbing and use of harsh, toxic products will not achieve the same results as the professional, deep down clean that our team of professional cleaners can carry out.
All you are doing is wasting your own time carrying out a thankless task with no real, visible results.
However, with our high-quality products and specialized equipment, we can restore the high shine to your tiles and bring your grout back to its original colour.
Don't bother wasting your time with over-the-counter tile and grout cleaners, the team at 580 Carpet Cleaning are just the people to tackle your tiles.
What kind of tiles can we clean?
The answer to this question is easy! We clean every and all types of tiles including –
Ceramic tiles
Porcelain tiles
Travertine tiles
Limestone tiles
Slate tiles
Natural stone tiles
Whether these tiles are on your countertops and backsplashes or are in your kitchen, bathroom, foyers, entranceways, hallways or wet rooms, our eco-friendly cleaning products will clean all these types of tiles and more and give you the results you've been dreaming of!
Before & After Our Livermore Tile & Grout Cleaning Services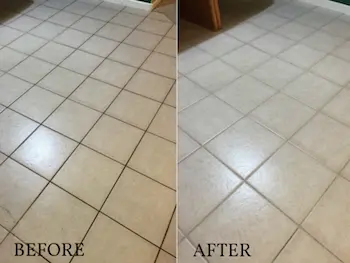 What are the benefits of having your tiles and grout professionally cleaned?
In addition to improving the look of your flooring/tiled area, hiring a professional has many other benefits –
Extends the life of floors, countertops and backsplashes by removing the dirt and debris that can weaken the integrity of the tiles themselves.
Our tried and tested techniques are safe to use on all types of tiles and grout.
With regular professional cleaning of your tiles, you can significantly extend the lifespan of your tiles meaning that you avoid have to completely replace them.
In addition to improving the appearance of your tiles and grout, our cleaning methods give results which are long-lasting, giving you more bang for your buck!
580 Carpet Cleaning ensure that even the dirtiest of tiles and the grubbiest of grout lines are restored to their former glory.
You will be amazed at the difference having your tiles and grout professionally cleaned can have on your home.
As we're locally owned and operated, we are proud to offer this affordable cleaning service to the Tri-Valley area of Northern California.
We also provide the most effective upholstery cleaning Livermore service to compliment our tile and grout offering.
Let our team look after your floors and restore the shine they had when they were first laid down!